The phrase 'no man is an island' is from a poem written by John Donne and expresses the idea that humans need to be part of a community to thrive. That's certainly true, by nature we are social creatures and connection is a core human need. So why do so many of us feel alone and what can we do to feel more connected?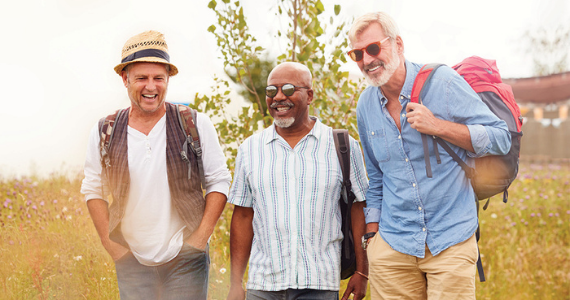 The last few years have highlighted the importance of social connection on our mental health and physical well-being, as our movements were restricted to varying degrees. The need to connect socially is as basic as our need for food, water, and shelter, with studies showing that it reduces the incidence of heart disease and stroke.i
You're not alone in feeling alone
While we all need social connection, so many of us are feeling that it's lacking in our lives. Feeling isolated is pretty common and happens to us all at one time or another, although loneliness appears to be particularly prevalent at the moment. A 2018 survey revealed that one in four of us are lonely and this increased to around half of us during the pandemic.ii, iii
So, what measures can we take to feel more connected?
Think about what you need
Everyone has different social needs. If you're used to spending a lot of time with colleagues, friends and loved ones, you might feel isolated or lonely with just a few interactions per week, while for someone who likes their own company that might be simply fine.
On that note, it's important to be able to enjoy your own company and sometimes periods of being alone can provide inner peace and time for introspection, making those moments of connection all the more precious.
Your social needs also change over time and under different circumstances. A life change like becoming a parent or retiring from the workforce can prompt a shift in your need to connect with others.
Quality can be more important than quantity
It's important to consider the significance of meaningful connections rather than just social interaction, for the sake of it. Often the intimacy of a deep and meaningful discussion with a close mate can be much more enjoyable than a dinner with people you barely know.
Foster good social skills
Social connection is a two-way street so there are things you can do to improve the quality of your social interactions. You can forge deeper connections by talking about things that matter to you and to the other person, developing good listening skills and demonstrating real interest in what they have to say.
Seek out new people and experiences
It can be hard to foster new social connections. One effective way is to join a group to be with people who have similar interests. This growing need has led to apps being built for this purpose, with one of the most popular being meetup.iv Meetup has groups for everything, whether you are interested in bike riding, cinema, salsa dancing or dining. If you can't find a group that's of interest you can always create your own.
When looking to meet new people, try to open yourself up to try new experiences. Not everything you try your hand at will open doors to friendship, but you can always learn from the experience and hopefully have some fun along the way.
Dust off old friendships
Friendships need nurturing and many of us have been guilty of neglecting old buddies – particularly of late. Have a think about the people in your life and the relationships that may have fallen by the wayside and reach out, even if it's just to grab a coffee.
It can take a little time and effort, but it's always possible to reach out and strengthen existing connections or forge new ones. The benefits of having those social connections in our lives are profound. Keep in mind that you're not the only one out there in search of connection and your efforts are not just helping yourself but also benefitting those you are reaching out to.
i https://www.heartfoundation.org.au/media-releases/Loneliness-link-to-heart-disease-in-older-Australi
ii https://psychweek.org.au/wp/wp-content/uploads/2018/11/Psychology-Week-2018-Australian-Loneliness-Report.pdf
iii https://www.blackdoginstitute.org.au/news/what-is-loneliness-and-how-can-we-overcome-it-during-these-times/
iv https://www.meetup.com/en-AU/
Important: This provides general information and hasn't taken your circumstances into account.  It's important to consider your particular circumstances before deciding what's right for you. Although the information is from sources considered reliable, we do not guarantee that it is accurate or complete. You should not rely upon it and should seek qualified advice before making any investment decision. Except where liability under any statute cannot be excluded, we do not accept any liability (whether under contract, tort or otherwise) for any resulting loss or damage of the reader or any other person. 
Any information provided by the author detailed above is separate and external to our business. Our business does not take any responsibility for any action or any service provided by the author. Any links have been provided with permission for information purposes only and will take you to external websites, which are not connected to our company in any way. Note: Our company does not endorse and is not responsible for the accuracy of the contents/information contained within the linked site(s) accessible from this page.