With consecutive rate rises throughout 2022 and talk of more to come, many Australians have been looking at their home loans more closely. Yet one thing that may have gone unnoticed is a loyalty tax and whether you are paying one.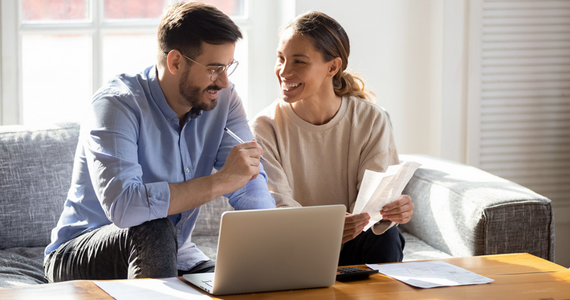 What is a loyalty tax?
A tax for being loyal? It doesn't seem fair, though it certainly is common. In recent years the RBA have confirmed that a loyalty tax exists, with pre-existing clients paying more interest on their home loans than new customers do.
Australia's big four banks – Westpac, ANZ, NAB and CBA – are earning approximately $4.5 billion as a result, with loyal customers bearing the brunt of higher borrowing costs; those of which aren't passed on to new clients.i
It's safe to say that as more of us feel the pinch, the greater our desire is to ensure we're getting the best outcome when it comes to our home loan.
While reviewing your situation and shopping around for a better rate can seem time-consuming, the reward is not having to pay more than you need to.
Are you paying a loyalty tax for an old loan?
*As of September 2020, for owner-occupier loans with principal and interest repayments
Source: ACCC's Home Loan Price Inquiry – Final Report
The trend towards refinancing
To combat the impact of rising rates on household budgets, it makes sense that more Aussies are reviewing their home loan and refinancing. With inflation being the highest it has been in Australia since the early 1990s, many of us can't afford to not look for a better deal.
This is especially true in the eastern states. Last financial year saw a record 331,976 property refinances recorded for New South Wales, Queensland and Victoria, which was a 29% increase on the previous financial year.ii Victoria led the refinancing trend in terms of volume, followed by New South Wales, while Queensland saw the highest growth.
This was largely due to the expiration of low fixed-rate loans, which had been taken out in 2020 and 2021, and are collectively worth around $400 billion.iii
Checking your home loan and rate
You may have heard the terms 'sleepy borrower' or 'sleepy mortgage holder' before – these refer to people who haven't checked their loan for over two years. Sound like you?
Checking your home loan and rate is always a good idea, and now more than ever. 2022's cash rate increase – and the prediction that inflation will rise even further to around 7% – means there will be additional financial pressure on many Australian homeowners.iv Yet 55% of 1000 surveyed Australians didn't know what home loan rate they were on, according to research from Mortgage Choice.v
It is important to refamiliarise yourself with the terms and conditions of your loan. Do they still suit your circumstances? What is the interest rate you are paying? What are the fees?
A mortgage switching calculator can be an easy way to compare deals. But remember, rather than just comparing your interest rate with one being offered by other lenders, you also need to consider the fees both upfront and ongoing. This will help you get a clearer picture of whether you would benefit from moving your loan or refinancing.
It's also worth speaking with us and we can flag your intention to switch with your current lending to negotiate your home loan rate. This can result in a better deal, especially if you have a good credit rating. With the news confirming the prevalence of a loyalty tax, they won't be surprised that you're questioning whether you are getting the best deal.
Pitfalls to watch out for
While refinancing may be in your best interest, it of course doesn't come without considerations. Depending on the conditions of your loan, you may need to pay an exit fee. While exit fees were no longer applied to home loans as of July 2011, if you have an older loan or extenuating circumstances (relating to early repayment of a fixed rate, for example) you might still need to pay this.
Then there are the fees related to your new loan. You might be able to avoid an application fee or ask for it to be waived, but there are non-negotiable fees as well, so find out what you will need to pay and when. There are establishment fees, related to the property valuation and legal costs, and also ongoing costs such as a monthly servicing fee. And while exit fees aren't applied anymore, there can be leaving fees related to settlement and refinancing.
Don't forget about Lenders Mortgage Insurance (LMI), which may be added to your home loan. As it's non-refundable and non-transferrable, check to see if this applies to your new loan.
Making the right decision
While the greater trend is towards refinancing, your individual circumstances need to be taken into account. Ask yourself whether you are getting the best deal, or if you're missing out due to loyalty to a lender or a lack of understanding of your situation.
We can help you take the next steps, from reviewing your home loan to future-proofing your financial position, so give us a call (02) 6041 6227 or email to get started.
i https://www.afr.com/companies/financial-services/70-000-home-loan-loyalty-tax-netting-banks-4-5b-20220729-p5b5m8
ii https://www.pexa.com.au/news/property-refinancing-reaches-record-heights-in-fy22
iii https://www.mpamag.com/au/news/general/refinancing-set-to-hit-new-high-in-2023/415036
iv https://www.rba.gov.au/media-releases/2022/mr-22-21.html
v https://www.mortgagechoice.com.au/about-us/media-centre/media-releases/research-reveals-borrowers-unprepared-for-rising-rates/
Important: This provides general information and hasn't taken your circumstances into account. It's important to consider your particular circumstances before deciding what's right for you. Although the information is from sources considered reliable, we do not guarantee that it is accurate or complete. You should not rely upon it and should seek qualified advice before making any investment decision. Except where liability under any statute cannot be excluded, we do not accept any liability (whether under contract, tort or otherwise) for any resulting loss or damage of the reader or any other person.
Any information provided by the author detailed above is separate and external to our business and our Licensee. Neither our business nor our Licensee takes any responsibility for any action or any service provided by the author. Any links have been provided with permission for information purposes only and will take you to external websites, which are not connected to our company in any way. Note: Our company does not endorse and is not responsible for the accuracy of the contents/information contained within the linked site(s) accessible from this page.