With much of the country opening up after a long period of travel disruptions due to COVID-19, Australian's now, more than ever, are taking the opportunity to get on the road and discover our own backyard. And, if you're able to work flexibly, you may be able to extend that holiday a little longer or work each day whilst you're on the road.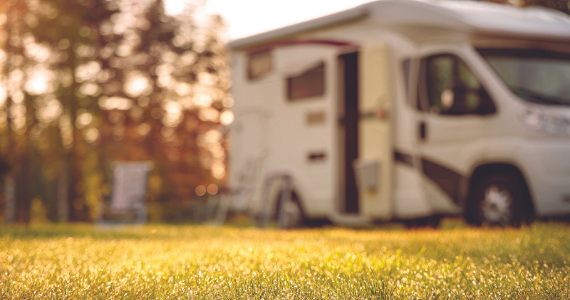 You may think caravanning was just for the 'grey nomad community' or 'we're too young to be travelling in a caravan' but times have certainly changed. Due to our international borders being closed for so long, road trips are becoming increasingly more popular and so is the mode of transport we use to get around.
Thor Industries, owners of Jayco and Airstream, began seeing a marked increase in sales back in May and June 2020, and sales are continuing to grow. So much so, they now have a backlog on orders well into 2022.i
If you are thinking of taking a road trip, there are a number of considerations when choosing the type of caravan or RV for you and your family. You may want a caravan or trailer that is smaller and easier to tow on the back of your car or 4WD, or a large and luxurious RV may be more your style, where you are able to tow a small SUV at the back for off-roading.
Why choose a road trip?
When it comes to road trip destinations in Australia, we are totally spoilt for choice and Mother Nature offers some spectacular scenery along the way. Whether you prefer hugging the magnificent coastline, exploring the lush tropical north, or heading inland and going bush, there is something special for everyone.
While a road trip provides the opportunity to experience some of Australia's beautiful landscapes, studies have found that being amongst nature also helps alleviate stress and anxiety, improves our physical health and can also boost our mood.ii
There are many other benefits to leaving the big smoke behind and travelling to regional areas to see and experience new and exciting things. You'll no doubt spend money in most of the towns that you stop in on your journey, boosting the local economy when buying locally made arts and crafts, local produce, or perhaps you'll book a tour if they are available.
Where to go – that is the big question…
Australia is made for a road trip and there are plenty of Instagram worthy photo opportunities to take advantage of too, so whether it be long or short, here are some of the most scenic drives in our country:
Cairns to Cape York (QLD): Cape York Peninsula (northernmost point in Australia), Mossman Gorge
Great Ocean Road (VIC: The Grotto, Loch Ard Gorge, 12 Apostles
NT – Nature's Way (NT): Kakadu National Park, Katherine Gorge, Litchfield National Park
Perth to Albany and return (WA): Silo trail, Stirling Range National Park
Waterfall way (NSW): Bellingen, Dorigo National Park, Ebor Falls,
West Coast Wilderness (TAS): Cradle Mountain, Lake St Clair, Pencil Pine Falls
The Epicurean Way (SA): Fleurieu Peninsula, McLaren Vale, Adelaide Hills and Barossa wine regions
Plan ahead
You may be a seasoned caravanner or a first timer, but here are some travel tips to help you and your family on your next adventure:
Ensure everything is mechanically sound before you head off. Check if are there any weight limits along the way, what are the roads like – are all the roads sealed or will there be dirt tracks or rivers you may need to cross? Check the weather forecast. Pack essential items like medical kits, physical road maps as there may not be phone reception in some areas and if necessary, pre-book accommodation sites.
If you're travelling with children, you may need to stop more frequently, so you must factor in the additional time it will take to reach your destination – timing is everything.
All in all, remember to appreciate what we have in this big, beautiful country, it truly is one of a kind. As the saying goes – 'take only photos and leave only footprints' and prepare yourself for what could be the holiday of a lifetime.
i https://www.businessinsider.com.au/rv-thor-industries-has-14-billion-order-backlog-inventory-2021-6
ii https://www.stress.org/how-being-outdoors-and-getting-active-impacts-stress-management